Carnival Night Zone
Jump to navigation
Jump to search
Carnival Night Zone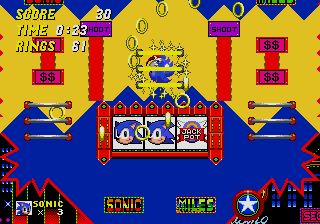 winner winner chicken dinner
Source: Sonic 2 & 3
Builder: Abysmal
Level Range: 30-35
Linked: Yes
Carnival Night Zone is a resort park located north of Viorar.
It's built on a mesa out in a canyon, where robots have pushed back the previous forest there to construct a hotel and casino.
Sights
Book a room at the hotel! Stroll through the forest! Lose all your money at the Casino!
Travel
Carnival Night Zone is just a short trek through Faron Woods, near Midnight Gardens. Caution should be used though - the final bridge to the mesa is incomplete.
Inhabitants
Lots of tourists have already checked in, even though construction isn't done in several places. The robotic staff keeps things running. And word has it, the animals in hiding in the woods are much smarter and more dangerous than you'd expect.
Law, Government, and Politics
Carnival Night Zone lies near the Beast Kingdom, though it's really just controlled by the nefarious Dr. Robotnik.
Quests
While searching for a rebellious hedgehog, a group of badniks put together a plan that would surely stop those dastardly freedom fighters:
- Conquer the highest point in the zone.
- Give a lake-dweller some indigestion.
- Escape the Casino's back room with knees intact.
- Taught Dr. Robotnik a lesson once and for all?
The Great Explorer Luigi Says

"Luigi once met-a lawyer who said that one should turn their thinking upside down when unsure on how to proceed."