Despair...
Jump to navigation
Jump to search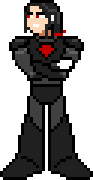 Cosmo Canyon
January 5 of the year 325
Undine's Day

Seikou sat alone in Cosmo Canyon, staring into the depths of the ever-burning Cosmo Candle. Although now, there was no one left to tend it...
He and Variance had been too late to do anything besides survey the fallen... And Seikou had been too distraught to even do that... The description the man had given... was...
Red armor and blue hair... Who else matched it? It had to be her, no matter how much the part of him that still cared for her denied it... Somehow, Aura had gone... Maverick.
He stared at the white rose still gripped in his hand. He had intended to give her a bouquet of the blossoms she so clearly loved... But instead, each of the roses had gone to a different member of the fallen. Only this one was left...
He considered for a moment keeping it, hoping that somehow the rose could bring her back... But then rationality crushed that hope. He was a special case... Hitomi's anti-virus system was the only thing that kept him from giving in entirely to the virus.
She couldn't fight it off, no matter how much Seikou prayed...
Finally he sighed and dropped the beautiful white blossom into the orange flames of the Candle. He saw it burn for a moment, and then it disappeared...