Coronar Lowlands
Jump to navigation
Jump to search
Coronar Lowlands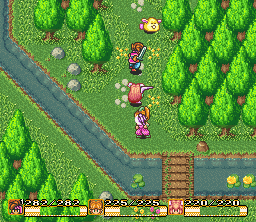 Natural beauty you are sure to Like Like
Source: Secret of Mana
Builder: Lilly + Benamas
Level Range: 31-35
Linked: Yes
The Coronar Lowlands is a mountainous region in Fa'Diel.
Sights
An obscure cannon has been set up near the Oreyndur Forest, maintained by an eccentric man who deals with only seasoned adventurers. There's also a good view of the neighboring towns, Arlia and Tonoe!
Travel
The Coronar Lowlands are a little north of the Donut Plains, just on the other side of Tonoe. It rests near the Oreyndur Forest, on the northwestern side of The Veldt.
Inhabitants
There aren't any particularly important settlements in the Coronar Lowlands other than a lone house and a workshop. Matango Geomancers feel a deep bonding to the plains and can often be seen throughout the area. It is also the home to creatures such as silktails, needlions, and Like Likes.
Law, Government, and Politics
The Coronar Lowlands officially fall under the rule of Fa'Diel, but there's no military presence to enforce that.
Quests
An unoccupied house can be found somewhere here. Perhaps a resourceful adventurer can enter it?
The Great Explorer Luigi Says

"Luigi once lost-a shield to those no good Like Likes. Some monsters pick up items left on the ground, too. Don't forget your trusty explorer's tents or sleeping bags!"